#1 Rated Power Washing Renton WA
Power Washing Renton WA for Residential & Commercial
BLK Diamond Exterior Solutions has been a leading power washing company in Power Washing Renton WA for many years. We completely understand the need for our services in the South King County and surrounding areas. When you have your home professionally power washed, you immediately see an increased curb appeal! On the other hand, a benefit you won't see right away is that regularly getting your home cleaned is helping your property last longer by removing residue that can contribute to deterioration and eventually cause your home to look old and run-down! It's highly recommended to get exterior areas of your home power washed by professionals, at least every 2 years to prolong the life of your home and keep it in good shape.
What is Power Washing?
Commonly used as an umbrella term, power washing is used to refer to the method of cleaning surfaces of residential and commercial properties with pressurized water. However, it's not common knowledge that there are 2 types of power washing that are used depending on what surface is being cleaned – they are low power washing and high power washing. As the term suggests, the difference is in how much power is being used.
Low power washing, more commonly called soft washing, uses power akin to what you would see in a regular shower head. Low power washing paired with a specialized cleaning solution works very well to clean various surfaces ranging from surface residue like dirt to other tougher scum, like mold and algae. The soft washing method relies more heavily on the cleaning solution to get the job done, while using lower power water to assist in getting a surface cleaned right. But, don't worry, the cleaning solutions used with us are eco-friendly and will not strip any surfaces of paint or protective coating. With such light power used in the water, this method of cleaning can be used on most soft surfaces, such as: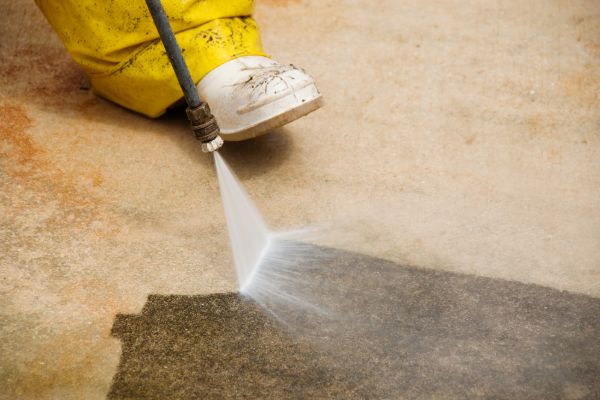 Power washing, the topic of this service page, is the other effective method of residential and commercial cleaning. Power washing uses high power. The power is high enough to be dangerous if not handled correctly; in fact, the power is so high that it can cut through some surfaces. That's why it's important to know the material that is being washed so that an expert can decide on what power is appropriate to get the job done safely and correctly.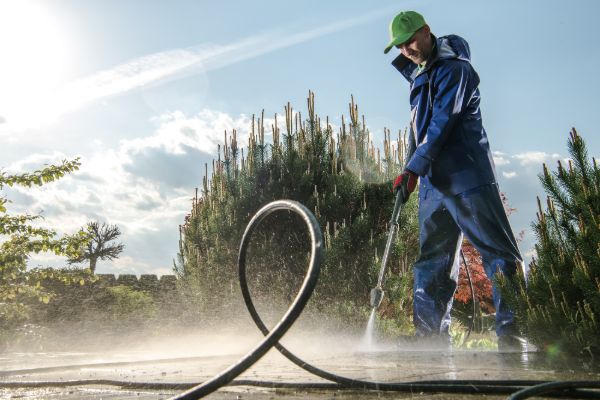 What Can Be Cleaned with Power Washing?
With such high power being used, the surfaces that can withstand power washing must be strong. This method of cleaning was designed for flat surfaces, usually made of concrete, such as:
Often times, these surfaces are in high traffic areas which causes all types of residue and gunk to become stubbornly embedded. Think about the sidewalk in front of your house. You have likely seen an old piece of gum or candy, now caked with dirt and is just a black, bumpy stain on the sidewalk or grease stains that dripped from your car on the driveway that are now an eyesore. Power washing with a specially formulated solution can get rid of these spots as well as kill any weeds that are growing through broken concrete!
Our Power Washing Renton WA Services Will Increase
Benefits of Professional Power Washing Renton WA
Having a professional Power Washing Renton WA service performed for you has more benefits than just a cleaner property. Even if you have your own power washing equipment, it is likely not an up-to-date industry standard piece and probably won't give you the same results as a professional company would be able to get. As a leading Power Washing Renton WA company, BLK Diamond Exterior Solutions uses high-quality professional grade equipment as well as cleaning solutions that only licensed professionals are able to attain. Getting amazing results for our clients is our goal with every cleaning job that we take on. In addition to getting professional results, getting professional Power Washing Renton WA services performed will also benefit you in:
Safety – With our trained professionals, you can be sure that they know how to handle high power water safely, protecting you, your family, themselves and your property. Having that much force coming out of the pressurized equipment can cause injury to nearby persons if the environment is not set up correctly – rocks and other debris may fly about and cause injury if struck in the eye or other delicate body parts. Then, regarding the safety of your property, it takes a trained and knowledgeable professional to know how to test the amount of power to be used so that no damages happen on your property.
Efficiency – We're not saying it's impossible to get this job done by yourself, but with the wrong equipment and cleaning chemicals if may take you double or even triple the amount of time that it would take a professional Power Washing Renton WA company, like BLK Diamond Exterior Solutions. Not only are we efficient in getting the job done right in a timely manner, but we are also efficient in our use of water! The power washing equipment can spray roughly 4 gallons of water per minute – if not done right, a lot of water may be wasted and also cause ponds of water in your yard damaging your plants and grass.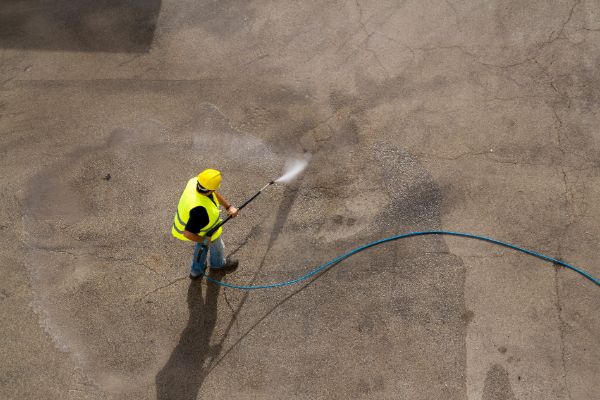 Increase Your Curb Appeal Instanty
Ready To Rejuvenate Your Home?